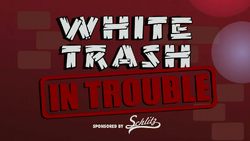 White Trash In Trouble is a fictional television show which documents the arrests of "White Trash" parents. The show is sponsored by Schlitz. The fictional show first appeared during the events of "The Poor Kid". The introduction of the show claims that a popular beer, Pabst Blue Ribbon, combined with being "White Trash" can make anyone "not help getting arrested". The show seems to focus on the welfare of the children in these households and will "take them from their homes" and place them in foster care. The catchphrase of this show is "I'm white trash and I'm in trouble!" which the white trash parents are forced to say.
Families Featured on the Show
The McCormick Family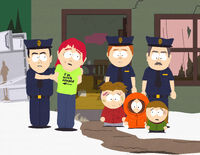 In the beginning of "The Poor Kid", Stuart and Kevin McCormick are seen fighting with each other, with Mrs. McCormick and Karen McCormick caught in the middle of the squabble. While the domestic dispute is happening, Kenny sits and watches White Trash in Trouble, and is surprised to discover that the house currently being shown was, in fact, his house.
Stuart and his wife are arrested and, much to Mrs. McCormick's dismay, their kids are taken and were to be sent into foster care. Everyone in the neighborhood was woken up by this and Stuart was forced to say "I'm white trash and I'm in trouble" on television.
The Cartman Family
With Kenny gone, Cartman and Butters do research to find out who the new poorest kid in school was. Eric was shocked to find out that he was the new poorest kid in school. He confronted his mother and proceeded to set her up for having a meth lab. Liane Cartman is then arrested, resulting in Eric being sent to foster care.
The Weatherhead Foster Family
The final family featured on White Trash in Trouble in "The Poor Kid" doesn't come as a surprise. Having disapproved of the way Mr. and Mrs. Weatherhead parent their foster children - or more accurately, himself - Eric reports them to Child Protective Services.
The Weatherheads nearly fob off the children's CPS adviser, Mr. Adams, but are distracted by Mysterion, who leads them around the house as they try to get a good look at him, leading Mr Adams to investigate the house. When Mr Adams finds the Punishment Room in the locked basement, where the terrified foster children are being waterboarded with Dr Pep-er, he realizes that he had been focusing on joking about his job rather than making sure the foster home is suitable, and urges CPS to return them to their homes.
Additionally, Mysterion plants a Pabst Blue Ribbon in their fridge which they drink, resulting in them getting pegged as "White Trash", and they end up on the show, being arrested for child abuse.
Cartman was also arrested and served 2 months in jail for filing a false police report and almost got the charge of resisting arrest because he refused to say "I'm white trash and I'm in trouble".
Trivia
White Trash in Trouble is clearly based on America's Most Wanted, and COPS.
Ad blocker interference detected!
Wikia is a free-to-use site that makes money from advertising. We have a modified experience for viewers using ad blockers

Wikia is not accessible if you've made further modifications. Remove the custom ad blocker rule(s) and the page will load as expected.