Warning! Spoilers Ahead!
  Let's face it, everyone who's seen the super hero arch- Coon 2: Hindsight,Mysterion Rises and Coon vs. Coon & Friends can easily say that those episodes are really good or their favorite. But, there's different aspects that make us love them. And for the sake of the "Shitty Blogger" badge I'm going to go through them..
1.  We get to see a different side of Kenny, he's no longer the perverse and poor kid who dies all the time, he's this kid who's brave and determined. And he's also extremley troubled. Unlike all of the other kids, Kenny remembers all of his deaths, and it kills him (no pun intended) to see his friends completley oblivious to his deaths, to see them act like nothing happened. We see him slowly break down because of this, but he stil perseveres through everything to protect his friends, save the world and try to figure out how he obtained his power.
2. Even with the "MaskedVigilante/SuperHero" theme, the boys still act like nine year old boys. Their headquarters are almost entirely made of cardboad, in discussing ways to save the world they decide on a bake sale, and you can see the little costumes they made themselves. For example Clyde's costume has a sash made of ketchup packets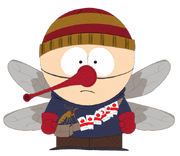 3. It's fucking funny! With Cartman's view on how he's being the good guy by teming up with Cthulhu and destroying all the synagogues and whole foods, and Butter's being trapped in a dog cage we can't help but to laugh.
4. It has unexpected twists. I don't think that anyone who was watching these episodes for the first time to expect that MintBerryCrunch was the only one with super powers, or that a portal to another dimension would open up from BP/DP drilling in the wrong place
Ad blocker interference detected!
Wikia is a free-to-use site that makes money from advertising. We have a modified experience for viewers using ad blockers

Wikia is not accessible if you've made further modifications. Remove the custom ad blocker rule(s) and the page will load as expected.