I was going on the handedness page, and I look at all of them. It says that Kenny is right-handed. Are they sure? I saw him writing with his left hand. If you look at the photo (right), he's holding the pen in his left hand. But, i think he is also right handed.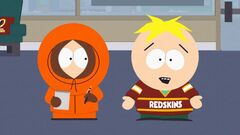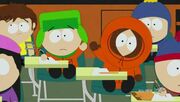 Here, in the photo (left), here is Kenny with his hand sticking up. Sorry, the photo is a bit after the actual part, but Kenny was writing with his right hand. Should we change to 'Ambidextrous', or leave it as 'right-handed'? 
Ad blocker interference detected!
Wikia is a free-to-use site that makes money from advertising. We have a modified experience for viewers using ad blockers

Wikia is not accessible if you've made further modifications. Remove the custom ad blocker rule(s) and the page will load as expected.