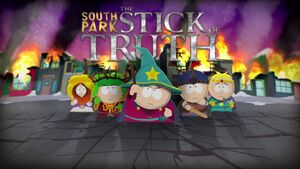 Hello, South Park fans. Yesterday, Ubisoft announced that South Park: The Stick of Truth has been rescheduled to release on March 4, 2014 in North America and March 6, 2014 in Europe.
The stated reason for this delay is the underestimated amount of work the game required, hence the need for extended time. Here is a direct quote from Ubisoft North America's president Laurent Detoc:
Within three weeks after acquiring the game, we sadly realized we had to turn this thing upside down if we hoped to deliver the experience everybody wanted. It's been such a major overhaul to get to the point where we are that we couldn't let it go, even if that meant missing December.
Trey Parker and Matt Stone reinforce this with the following statement:
We always wanted the game to feel like you're actually in an episode of South Park. Getting the game up to the crappy standards of the show has been a real challenge and we're excited to say it's taken way longer than we thought it would.
The good news is Ubisoft released a new trailer that is 7 minutes long:
Ad blocker interference detected!
Wikia is a free-to-use site that makes money from advertising. We have a modified experience for viewers using ad blockers

Wikia is not accessible if you've made further modifications. Remove the custom ad blocker rule(s) and the page will load as expected.