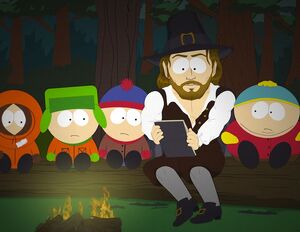 Hey South Park fans!
Are you excited for "A History Channel Thanksgiving"? Be sure to check in at South Park Archives for our weekly live chat party!
Please join us from 9PM-11PM EST (for West Coast and East Coast fans) to watch the episode and live chat with other South Park fans! Record your reactions and sound off scene-by-scene!
To join the chat for "A History Channel Thanksgiving", click here!
Ad blocker interference detected!
Wikia is a free-to-use site that makes money from advertising. We have a modified experience for viewers using ad blockers

Wikia is not accessible if you've made further modifications. Remove the custom ad blocker rule(s) and the page will load as expected.