In the wake of death threats regarding the appearance of Muhammad in "200", Comedy Central heavily censored the following episode "201". In addition to bleeping out every utterance of his name, the whole of Kyle's usual, "I learned something today..." speech was covered by one long bleep.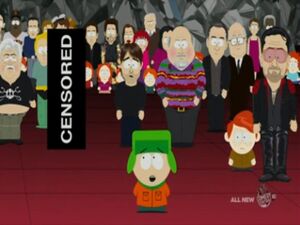 However, just recently a reddit user posted a link to an anonymously sourced audio clip of that un-bleeped, closing exchange between Kyle, Jesus, and Santa, in which they present that entire story's tongue-in-cheek moral conclusion: that the best way to get what you want is to threaten other people with violence.
You can watch the uncensored version here.
And here's a transcript, on the very good chance that either the audio or video may be removed:
KYLE: That's because there is no goo, Mr. Cruise. You see, I learned something today. Throughout this whole ordeal, we've all wanted to show things that we weren't allowed to show, but it wasn't because of some magic goo. It was because of the magical power of threatening people with violence. That's obviously the only true power. If there's anything we've all learned, it's that terrorizing people works.
JESUS: That's right. Don't you see, gingers, if you don't want to be made fun of anymore, all you need are guns and bombs to get people to stop.
SANTA: That's right, friends. All you need to do is instill fear and be willing to hurt people and you can get whatever you want. The only true power is violence.
Ad blocker interference detected!
Wikia is a free-to-use site that makes money from advertising. We have a modified experience for viewers using ad blockers

Wikia is not accessible if you've made further modifications. Remove the custom ad blocker rule(s) and the page will load as expected.