Comments

0
July's Featured Article of the Month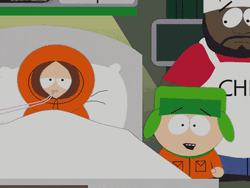 Congratulations to those who voted for "Kenny Dies" for July's featured article of the month! Be sure read all about Kenny's semi-permanent death and how Cartman and Stan cope with their friends demise, in "Kenny Dies".
Remember to vote for next month's featured article of the month here and choose wisely, as votes cannot be taken back. If you have a nomination for next month's selection, be sure to read up on how to nominate on the voting page!
Regarding the featured article voting poll, the number of nominations has been reduced from 7 to 5. This is an effort to reduce bandwagoning and the number of 0-vote choices. Please, choose the article that you want, not the one you think you should choose because everyone else has chosen one.
Happy Voting!