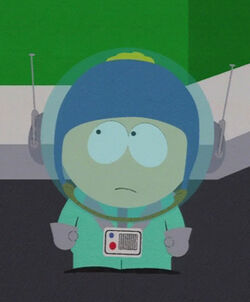 Good day to you all, South Park fans! Here is a quick snapshot of things happening on the wiki. The format of these updates may change over time, but for the moment, they will discuss the wiki from a broad approach. If you have comments, leave them below.
Community
Featured Article - "Kenny Dies" is July's Featured Article of the Month. Be sure to vote for next month!
Article Comments - As a reminder, article comments should discuss how to improve the article. This may change in the future, but for now, discussion about the article's subject should take place in the form of a blog post or forum post.
Fanon - As a reminder, Fanon is not permitted in mainspace articles. You'll get better visibility and reception on the fanon wiki.
Article Suggestions - If you have a suggestion for an article that should be on South Park Archives, please add it to Page Suggestions. Be sure to follow the instructions given. If you are unsure about how to add a suggestion, leave a comment below.
Wiki Suggestions - If you have a suggestion for another area of the wiki, be it a future project or changing a rule, leave a comment below. All suggestions will be considered and are welcome.
Rumors
Rumors have been going around about a potential twenty-first and twenty-second season of South Park. Although these are in the positive light, they are still rumors. Please do not attempt to add new seasons pages until new seasons are announced by South Park Studios.
Project Status
Episode Scripts Project 2 - The project aims to ensure that each episode's script is complete and of good quality. It is well underway; several seasons have been completed with many in progress.
Character Portal Project - This project aims to revamp the Character Portal to make it easier to use and to ensure each character is being represented. This project is complete.
Stub Pages Project - This project aims to add quality content to stub articles. This project has yet to be started, but should commence later this week. Be sure to sign up when it has been declared.
Page Suggestions Project - This project aims to add pages from past episodes that have been suggested. This project is well underway and will be official later this week. Be sure to sign up when that happens.
Ad blocker interference detected!
Wikia is a free-to-use site that makes money from advertising. We have a modified experience for viewers using ad blockers

Wikia is not accessible if you've made further modifications. Remove the custom ad blocker rule(s) and the page will load as expected.