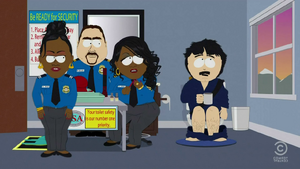 What did you think of "Reverse Cowgirl"?
I, for one, thought it was a very good episode. I appreciated the fact that they were able to make fun of the TSA, yet they didn't get preachy about it. I also liked that Clyde Donovan got a prominent role and some character development. I felt really bad for him. All the poop jokes and the logger were pretty hilarious too.
What did you think? Justify your answer in the comments.
Ad blocker interference detected!
Wikia is a free-to-use site that makes money from advertising. We have a modified experience for viewers using ad blockers

Wikia is not accessible if you've made further modifications. Remove the custom ad blocker rule(s) and the page will load as expected.