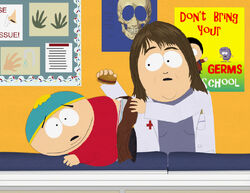 Hey South Park fans!
If you're all eagerly anticipating the return of South Park's Season 15, come join us this Wednesday 10/5 for South Park Archive's first Live Chat Party! We're hoping to get lots of fans in the chat and make this a weekly affair so we hope to see you there!
Please join us from 7PM-11PM PST (for West Coast and East Coast fans) to watch the episode and live chat with other South Park fans! Record your reactions and sound off scene-by-scene!
To join the chat for Ass Burgers, click here!
Ad blocker interference detected!
Wikia is a free-to-use site that makes money from advertising. We have a modified experience for viewers using ad blockers

Wikia is not accessible if you've made further modifications. Remove the custom ad blocker rule(s) and the page will load as expected.