Comments

0
Live Chat Party for Bass to Mouth TONIGHT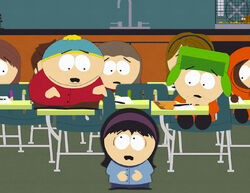 Is South Park taking a page out of Gossip Girl? Who's gossiping about the boys in Bass to Mouth? Gossip and discuss away at our weekly live chat party right here on South Park Archives!
Please join us from 7PM-11PM PST (for West Coast and East Coast fans) to watch the episode and live chat with other South Park fans! Record your reactions and sound off scene-by-scene!
To join the chat for Bass to Mouth, click here!