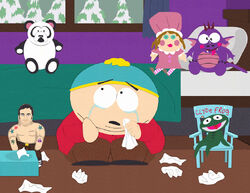 Hey South Park fans!
South Park is tackling the hottest political issue du jour in this week's 1%! Be sure to join our weekly live chat party to discuss Cartman's rights!
Please join us from 7PM-11PM PST (for West Coast and East Coast fans) to watch the episode and live chat with other South Park fans! Record your reactions and sound off scene-by-scene!