Hello South Park Fans! Want to chat with wiki admins, editors and fans of South Park? Then you should totally join our South Park Archives Discord chat!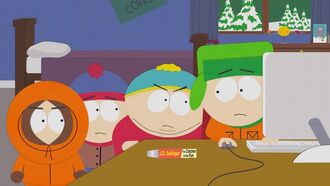 You can join with the Discord widget on the right side of the page or, just click the link below! Remember to read the
Discord Rules and Policies
before joining.
We hope to see you there! Questions or concerns? Feel free to leave me a message on my message wall! Happy Chatting!
HighJewElfKing • Wall
Ad blocker interference detected!
Wikia is a free-to-use site that makes money from advertising. We have a modified experience for viewers using ad blockers

Wikia is not accessible if you've made further modifications. Remove the custom ad blocker rule(s) and the page will load as expected.