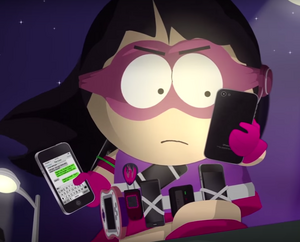 Hello everybody! I'm excited to announce our newest admin on South Park Archives!
---
Congratulations!

PissCoveredOcelot
---
PissCoveredOcelot has been very helpful and I know she will be able to contribute even more to our wiki in the future. She's dedicated, positive and is a pleasure to work alongside with. I know she will be a great addition to our admin team here on SPA. I know her, myself and Jamesb1 will be one of the best teams in the history of SPA and we won't stop making this wiki the #1 place for South Park information! Be sure to congratulate our newest admin!
Ad blocker interference detected!
Wikia is a free-to-use site that makes money from advertising. We have a modified experience for viewers using ad blockers

Wikia is not accessible if you've made further modifications. Remove the custom ad blocker rule(s) and the page will load as expected.