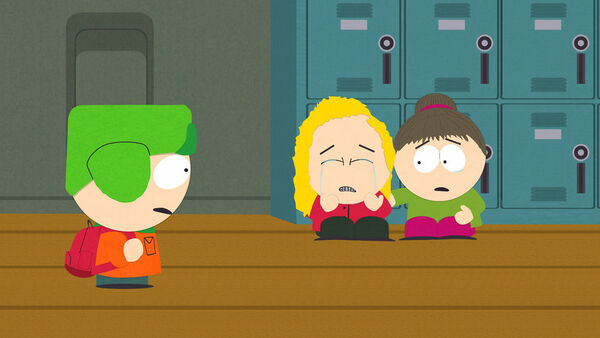 Hello South Park fans! HighJewElfKing here, we now have information on Wednesday night's episode. I will attach the press release which is provided by South Park Studios.
THE TROLLING ON TWITTER CONTINUES ON AN ALL-NEW EPISODE PREMIERING WEDNESDAY, SEPTEMBER 21 AT 10:00 P.M. ET/PT ON COMEDY CENTRAL ——– GIPHY Launches First GIF Channel for "South Park" ——– All-New Season 20 Episodes will be Available to Stream in HD Exclusively on SouthPark.cc.com and Hulu ——– NEW YORK, September 19, 2016 – The students of South Park Elementary have to deal with a painful loss in an all-new EPISODE titled "Skank Hunt" on Wednesday, September 21 at 10:00 p.m. ET/PT on Comedy Central.
The boys decide they have to take down Cartman but meanwhile, Skank Hunt takes his rein of terror global.
In collaboration with Comedy Central, "South Park" and Viacom Lab, GIPHY has released a first-of-its-kind, comprehensive GIF channel for "South Park" to celebrate the series historic 20th season. The channel features thousands of "South Park" moments in GIF form, all discoverable through GIPHY allowing users to "speak in South Park" on multiple platforms including Facebook Messenger, Twitter, Tinder, Slack, GIPHY for iMessage and many others.
All-new episodes from this season will be available to stream in HD exclusively on South Park Studios and Hulu the day after they premiere. Fans will continue to have next-day access to new episodes, as well as the entire "South Park" library, across all internet-connected devices with a Hulu subscription. New episodes and a selection of curated episodes will be available to stream on SouthPark.cc.com, cc.com and the Comedy Central App.
Trey Parker and Matt Stone are the co-creators of "South Park." Parker, Stone, Anne Garefino and Frank C. Agnone II are the Executive Producers of the Emmy® and Peabody® Award-winning "South Park." Eric Stough, Adrien Beard, Bruce Howell and Vernon Chatman are Producers. Chris Brion is the Creative Director of South Park Digital Studios. "South Park's" Web site is SouthPark.cc.com.
Comedy Central's "South Park" launched on August 13, 1997. The series airs Wednesday nights at 10:00 p.m. and repeats later that night at Midnight (all times ET/PT). "South Park" season 20 will begin rolling out on Comedy Central channels internationally in October. The uncensored episodes are also available for download on iTunes, Amazon Instant Video, XBOX Live, Google Play, Sony Entertainment Network, Vudu and Verizon Flexview. Available on-air, online and on-the-go, Comedy Central (www.cc.com) is the #1 brand in comedy and is owned by, and is a registered trademark of, Comedy Partners, a wholly-owned unit of Viacom Inc. (NASDAQ: VIAB)
Press Release Link:SPS Press Release
Ad blocker interference detected!
Wikia is a free-to-use site that makes money from advertising. We have a modified experience for viewers using ad blockers

Wikia is not accessible if you've made further modifications. Remove the custom ad blocker rule(s) and the page will load as expected.