Fall is upon us, folks, and that means...NEW EPISODES!!! South Park is making its comeback on September 26, so let's celebrate with a live chat party!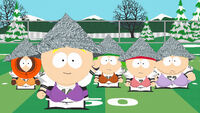 Join us September 26 at 10/9 central to watch the episode and live chat with other fans! Laugh, gasp, and roll on the floor laughing as we watch the South Park gang together!
To join the live chat for "Sarcastaball", just click here!
---
---