About Me
Hello, my name is HP Bloodshed, or as my friends call me HP. I am a huge fan of South Park, owning every season available for home media, as well as the movie. I have been contributing to the wiki for a while, about a year and 6 months (give or take). I am your friendly neig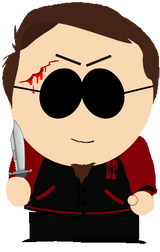 hborhood Administrator whom is out going but will definitely use the ban hammer and the magic wand of undoing as needed. I am, most importantly, a South Park fan and you,
<insert name here>
, are not as awesome as myself, just saying.

This user is an admin!
This user has administrator status on South Park Archives and is a good source of help.
Here are my hopes for this wiki:
To go AWOL
To succeed in life
Make a page on my favorite rule 34 pics.
Interests
My interests are as follows:
Fine Wine
South Park (No shit)
Genocide (Hey, it works out in the long run)
Retirement (3 Years Left... At the Most)
Life (I feel alive... unlike

<insert name here>

...)