This user is an admin!
This user has administrator status on South Park Archives and is a good source of help.
"Hi, my name is Randy and I'm an alcoholic"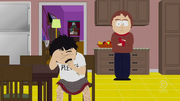 My Favorite Pages
South Park Archives:Projects - Ask me how to help with this subject.
List of Songs - Here are all of the songs ever heard on the series. If you know of any we missed, please tell us.
Editcount - Would you like to see how many edits and contributions to other wikis you have done?
Category:Christians|Christians
If you would like to use a personal character template seen on my profile, choose the "Editor Profile" template from the template selections.