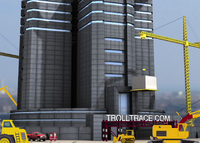 TrollTrace.com is fictional internet service by Lennart Bedrager. It was first mentioned in the Season Twenty episode, "Wieners Out". It's primary purpose is to provide a service for users online to identify trolls by way of submitting comments and messages.
Background
Vowing to identify and destroy internet trolls, Lennard Bedrager create an online service for users to submit troll comments and messages to. When the website receives a troll comment, it tags its and attaches the trolls personal information, including:
Full Name
Address
Photo
Age
Height
Weight
Internet History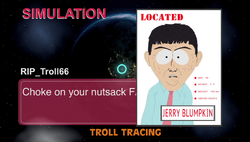 Although Bedrager states that the service is to only be used against trolls, it is possible to use it maliciously against non-trolls.
Once identified, the troll's local police department is contacted, and the troll is taken into custody for crimes related to being an internet troll.
Trivia
Prominence