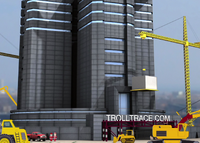 TrollTrace.com was a fictional internet service created by Lennart Bedrager. It was first mentioned in the Season Twenty episode, "Wieners Out". Its primary purpose was to provide a service for users online to identify trolls by way of submitting comments and messages. Its true purpose, though, was to turn countries against each other as part of a world trolling plot.
Background
Vowing to identify and destroy internet trolls, Lennard Bedrager create an online service for users to submit troll comments and messages to. When the website receives a troll comment, it tags its and attaches the trolls personal information, including:
Full Name
Address
Photo
Age
Height
Weight
Internet History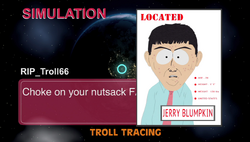 Although Bedrager states that the service is to only be used against trolls, it is possible to use it maliciously against non-trolls.
Once identified, the troll's local police department is contacted, and the troll is taken into custody for crimes related to being an internet troll.
Trivia
In real life, when typed as a url, TrollTrace.com redirects to the official South Park website.
The TrollTrace.com headquarters seems to be based on the S.H.I.E.L.D. Triskellion, as first seen in Captain America: Winter Solider. In Winter Solider, HYDRA, tried to use the 3 helicarriers to track anti-HYDRA people, much like the TrollTrace aimed to track those who were opposed to the mainstream.
Prominence
Ad blocker interference detected!
Wikia is a free-to-use site that makes money from advertising. We have a modified experience for viewers using ad blockers

Wikia is not accessible if you've made further modifications. Remove the custom ad blocker rule(s) and the page will load as expected.