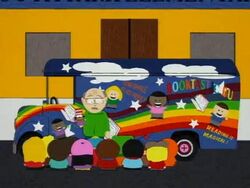 The Booktastic Bus is a highly stylized library-on-wheels that visits South Park Elementary in the Season Two episode, "Chickenlover".
Background
The boys and their classmates visit the Booktastic Bus to find books to read. When the Chickenlover, later revealed to be the Book Mobile Driver, is at large, Officer Barbrady uses books from the bus in order to find and decipher clues left behind at crime scenes by the Chickenlover.
Appearance
The Booktastic Bus is a blue bus with images of clouds, rainbows, kids and various slogans about the benefits and joys of reading. It also has the words "BOOKTASTIC BUS" in rainbow lettering.
Prominence
Ad blocker interference detected!
Wikia is a free-to-use site that makes money from advertising. We have a modified experience for viewers using ad blockers

Wikia is not accessible if you've made further modifications. Remove the custom ad blocker rule(s) and the page will load as expected.