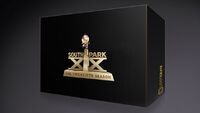 The South Park Loot Crate is an informal name for a South Park mixed merchandise collection published by Loot Crate and released in November 2016 to celebrate South Park's twentieth anniversary season. It was variously referred to as special, limited or twentieth anniversary edition in different official sources.
It featured eight exclusive collectibles, and the box could be converted into a recreation of the South Park Elementary School Bus, with stickers for decoration. Ten crates also featured signed scripts by Trey Parker and Matt Stone.
Contents
The following exclusive merchandise was included in the loot crate:
Gallery
External Links
Ad blocker interference detected!
Wikia is a free-to-use site that makes money from advertising. We have a modified experience for viewers using ad blockers

Wikia is not accessible if you've made further modifications. Remove the custom ad blocker rule(s) and the page will load as expected.