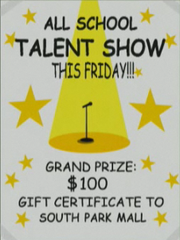 The South Park Elementary Talent Show was an event featured in the Season Nine episode, "Erection Day".
Background
South Park Elementary hosts a student talent show every year and Jimmy Valmer usually wins, for his popular stand-up comedy routine. This year Jimmy is having issues with his body, as uncontrollable erections cause him major embarrassment in public. Throughout the episode, he tries to find some relief for his problem so he can perform at the show.
The winner of the talent contest was to receive a $100 gift certificate to any store at South Park Mall.
Talent Show Acts
Ad blocker interference detected!
Wikia is a free-to-use site that makes money from advertising. We have a modified experience for viewers using ad blockers

Wikia is not accessible if you've made further modifications. Remove the custom ad blocker rule(s) and the page will load as expected.