Welcome to South Park Archives!
Your #1 database for the popular television series that anyone can edit!
Please read the rules before you start. This wiki contains spoilers on episodes and character plots.
It also contains excessive swearing and adult content, so it's not appropriate for anyone under 13.
South Park: The Fractured But Whole has been released!
May's Featured Article

Liane Cartman is Eric Cartman's mother who has been a recurring, and prominent, character on South Park since the very beginning. Prior to the series debut, in the "Unaired Pilot", Liane was shown to have a husband and daughter. They were not included in the show.
During the first season multi-part episode, "Cartman's Mom is a Dirty Slut", it was revealed that Liane was Eric's mother and father. She was revealed to be a hermaphrodite, however this was later retconned in "201" when Eric's true father was discovered.
In the first several seasons, Liane was shown to be very sexually promiscuous, often as a way to support her family. She was often seen engaging in intercourse with visitors and performing professionally. Since then, however, this quality has lessened significantly. (
read more...
)
Adult Animated Shows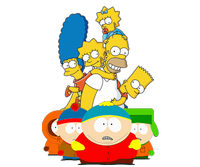 Latest Wiki News
Latest Discussions
Latest South Park Tweets
Ad blocker interference detected!
Wikia is a free-to-use site that makes money from advertising. We have a modified experience for viewers using ad blockers

Wikia is not accessible if you've made further modifications. Remove the custom ad blocker rule(s) and the page will load as expected.