Welcome to South Park Archives!
A database for the popular television series that anyone can edit.
Please read the rules before you start. This wiki contains spoilers on episodes and character plots.
It also contains excessive swearing and adult content, so it's not appropriate for anyone under 13.
The new episode has aired!
May's Featured Article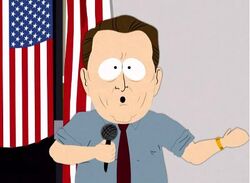 Al Gore was the Vice President of the United States under the Clinton administration from 1993 until 2001, and ran for president against George Bush in 2000, although Gore won the popular vote, the electoral college chose George W. Bush and Richard Cheney instead. He's most notable within the series for trying to alert people about Manbearpig. He also appears once during his vice presidency and again to sue the town. (read more...)
South Park Fanon


Do you like writing your own South Park stories? Write them only at our sister wiki, South Park Fanon, along with other great fan-fiction writers!
(As a reminder, fanon is not allowed on South Park Archives)
South Park:
The Stick of Truth Wiki


Do you want to know more about South Park: The Stick of Truth? Go to the wiki!
Latest Wiki News