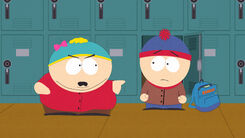 "The Cissy" is the third episode of Season Eighteen, and the 250th overall episode of South Park. It aired on October 8, 2014.
Stan is searching for answers about how a person who he's always known to be one thing could suddenly identify with another. In the meantime, the pressure of holding on to a giant secret is starting to get to Randy.(
read more...
)
Ad blocker interference detected!
Wikia is a free-to-use site that makes money from advertising. We have a modified experience for viewers using ad blockers

Wikia is not accessible if you've made further modifications. Remove the custom ad blocker rule(s) and the page will load as expected.