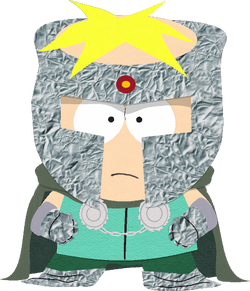 Professor Chaos is the bringer of destruction and the maker of doom! Those who do not know him yet shall know him very soon, for the hour of chaos is at hand! Professor Chaos and his faithful sidekick, General Disarray, seek to bring destruction and chaos to everyone's precious lives, and there's nothing you can do about it! So bow down, and kneel before your new lord and master!
Professor Chaos debuted in the eponymous episode as a result of being shunned and dismissed by his once loyal friends, whom he later confronts at the legendary Battle of Tokutawa. Defeated, Chaos later battles his grandma and is later captured by Coon and Friends. Resolving his differences with his former friends, Chaos provides much needed assistance to the great fighters or Zaron in South Park: The Stick of Truth. (read more...)
Ad blocker interference detected!
Wikia is a free-to-use site that makes money from advertising. We have a modified experience for viewers using ad blockers

Wikia is not accessible if you've made further modifications. Remove the custom ad blocker rule(s) and the page will load as expected.