Welcome to South Park Archives!
A database for the popular television series that anyone can edit.
Please read the rules before you start. This wiki contains spoilers on episodes and character plots.
It also contains excessive swearing and adult content, so it's not appropriate for anyone under 13.
The next episode will air
May's Featured Article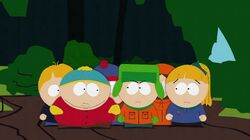 "Rainforest Shmainforest" is the first episode of Season Three, and the 32nd overall episode of South Park. It originally aired on April 7, 1999.
The boys are recruited to a rainforest-saving choir by Mr. Mackey after showing poor behavior. Unfortunately for them, the group gets lost in the forest. (read more...)
South Park Fanon


Do you like writing your own South Park stories? Write them only at our sister wiki, South Park Fanon, along with other great fan-fiction writers!
(As a reminder, fanon is not allowed on South Park Archives)
South Park:
The Stick of Truth Wiki


Do you want to know more about South Park: The Stick of Truth or its sequel, South Park: The Fractured But Whole? Go to the wiki!
Latest Wiki News