Welcome to South Park Archives!
Your #1 database for the popular television series that anyone can edit!
Please read the rules before you start. This wiki contains spoilers on episodes and character plots.
It also contains excessive swearing and adult content, so it's not appropriate for anyone under 13.
South Park: The Fractured But Whole has been released!
March's Featured Article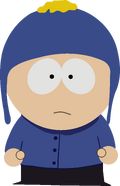 Craig Tucker is a 4th Grade student at South Park Elementary and is most known for his blue chullo hat, deep voice, and his tendency to flip people off for no discernible reason. He is also taller than most other 4th graders. Craig has been on the show since Season One and has continued to appear prominently ever since.
In the early days, Craig was usually seen outside of Mr. Mackey's office for flipping someone off. In "Tweek vs. Craig", he was the star of the show when he was tricked into fighting Tweek Tweak, who later became one of his closest friends. Since then, he has become friends with Jimmy, Token, and several others to create 'Craig's Gang', a clique centered around Craig.
He later became the focus of the "Pandemic" duology, where he joins the four main boys in forming a pan-flute band. After the 5 get sent to Peru, Craig learns of his prophecy, defeats the Guinea Pirate, and stops the Furry Death.
In "Tweek x Craig", he forms a close relationship with Tweek after many of the female Asian students at school draw yaoi art of the two. The two were reluctant at first, but ended up becoming a couple. In the upcoming South Park: The Fractured but Whole game, he is set to appear as Super Craig, along Tweek as Wonder Tweek. (read more...)
Adult Animated Shows
Latest Wiki News
Latest Discussions
Latest South Park Tweets
Ad blocker interference detected!
Wikia is a free-to-use site that makes money from advertising. We have a modified experience for viewers using ad blockers

Wikia is not accessible if you've made further modifications. Remove the custom ad blocker rule(s) and the page will load as expected.