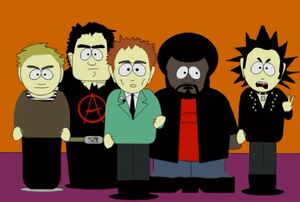 An image of the Sex Pistols with Chef appeared in the South Park episode, "Chef Aid", in Chef's photo album. John Lydon (also known as Johnny Rotten), the lead singer, also narrated the accompanying mockumentary Chef Aid: Behind the Menu.
One of their songs, "Pretty Vacant", was played by Stan and Kyle on Guitar Hero in the episode "Guitar Queer-O".
Ad blocker interference detected!
Wikia is a free-to-use site that makes money from advertising. We have a modified experience for viewers using ad blockers

Wikia is not accessible if you've made further modifications. Remove the custom ad blocker rule(s) and the page will load as expected.