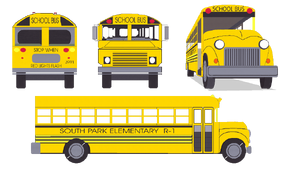 The South Park Elementary school bus is a yellow 1970 International Harvester S-series "Schoolmaster". It is usually seen at the beginning of each episode, picking up the boys from the Bus Stop. It is a recurring vehicle in South Park, and was a major hallmark in the series. Since the death of its driver, Veronica Crabtree, its iconic value has diminished, appearing inconsistently between seasons, and with fewer prominent appearances. The bus is now driven by the elementary school janitor, Jose Venezuela.
Ad blocker interference detected!
Wikia is a free-to-use site that makes money from advertising. We have a modified experience for viewers using ad blockers

Wikia is not accessible if you've made further modifications. Remove the custom ad blocker rule(s) and the page will load as expected.