Ad blocker interference detected!
Wikia is a free-to-use site that makes money from advertising. We have a modified experience for viewers using ad blockers

Wikia is not accessible if you've made further modifications. Remove the custom ad blocker rule(s) and the page will load as expected.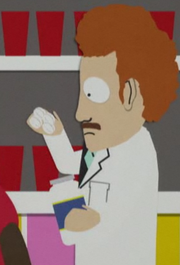 Ritalout is a fake drug that negates the effects of Ritalin.
In the Season Four episode, "Timmy 2000", a majority of the children are diagnosed with ADD and are prescribed Ritalin. However they overdose on it, becoming boring and dull enough to go and see a Phil Collins concert. While there, Chef and the doctors put Ritalout in the lemonade that everyone drinks, making them normal again.
Trivia
Ritalout is a joke on the fact that the opposite of 'in' is 'out', so Ritalout should negate the effects of Ritalin.
There is one scene in which the letters on the Ritalout bottle are visible, revealing that the drug is actually MDMA, a euphoric empathogen and the primary ingredient in the street drug ecstasy.