This page contains trivia for "
Red Sleigh Down
". Remember, trivia must be factual, provable, and it is always best to cite your source for not-so-obvious trivia. If you would like to dispute a trivia point, please discuss it in the article comments.
Trivia
Jesus and Santa work together in this episode even though they are shown to have a rivalry in "Jesus vs. Santa".
This episode also marks the permanent return of Kenny.
Following this episode, Mr. Hankey was absent for nearly eight years until "201".
This is the first Christmas episode not to have the word Christmas in the title.
Kyle's parents and Kyle appear at the lighting of the Christmas tree despite being Jewish.
When Jesus dies Stan says, in shock, "Oh my God, Iraqis killed Jesus!" followed by Kyle, also in shock, saying, "You bastards!" The two usually say these lines when Kenny dies, but instead it was Jesus who died.
Upon Red Sleigh 2 crashing into the church, one Italian woman yells "La Morte Rossa!" which translates to "The Red Death!"
This episode has Stan say, "Dude, this is pretty fucked up, right here.". He last said this in "Merry Christmas Charlie Manson!". Stan says this whenever something very strange or weird happens.
Chef's parents are seen at the lighting of the christmas tree.
Nurse Gollum, Ms. Crabtree, Timmy , Butters and Tweek are nowhere to be seen at the lighting of the christmas tree.
Kenny looks slightly smaller than the other boys in this episode.
References to Popular Culture
"Red Sleigh Down" was heavily influenced by the 1999 movie Three Kings and the 2001 movie Black Hawk Down.
The scene where the Sleigh crashes after being hit by an RPG and the associated radio chatter and video feed are all directly copied from the film Black Hawk Down.
The robot dog that Cartman wants for Christmas reflects the robot dog fad of the early 2000s which started with Poo-Chi. However, it closely resembles Sony's AIBO.
Santa's palace closely resembles, and is named after, the Fortress of Solitude from Superman: The Movie.
The torture scene involving electrodes, Santa, "Santa's Balls", "I'm gonna fucking kill you!" and "We're in for a long night because I don't know shit!", is a spoof of the torture scene involving Mel Gibson in Lethal Weapon. It also spoofs the torture scene in Three Kings, with the torturer saying "My main man" and pouring oil down his mouth and the part where Santa shoots interrogator though he actually doesn't get shot in Three Kings. The torturer also looks like the torturer from Three Kings. There also is a scene very similar to this one in Team America: World Police, though that movie was made later. The line when Santa was tortured and then saved by Jesus also has some references to film Red Dragon, which was released in the same year as current episode.
Jesus says "You're a bad liar" to Santa when he gets shot and is about to die. This is a direct quote from 1996 film Independence Day.
The two Iraqi children with large eyes are spoofs on the RankinBass Christmas specials. At the end of the episode, the faces of Stan, Kyle, and Cartman also briefly turn into "Rankin/Bass" faces.
Continuity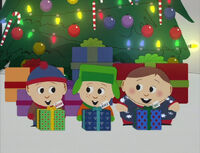 Goofs
While Jesus is dying, the guns that Stan and Kyle are holding are missing a section.
Ad blocker interference detected!
Wikia is a free-to-use site that makes money from advertising. We have a modified experience for viewers using ad blockers

Wikia is not accessible if you've made further modifications. Remove the custom ad blocker rule(s) and the page will load as expected.