Ad blocker interference detected!
Wikia is a free-to-use site that makes money from advertising. We have a modified experience for viewers using ad blockers

Wikia is not accessible if you've made further modifications. Remove the custom ad blocker rule(s) and the page will load as expected.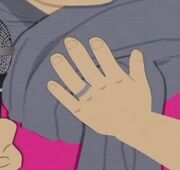 A purity ring is an item of jewelery worn by individuals in relationships, with the ring encouraging them to practice celibacy until the act of marriage has passed. They appeared in the Season Thirteen episode, "The Ring".
Appearances
"The Ring" At a Jonas Brothers concert, Kenny McCormick and Tammy Warner who are dating are given purity rings by the Jonas Brothers. This is to Kenny's great displeasure, as he wants to engage in sexual activity with Tammy without having to marry her.