Nurse Gollum
Comments

0
3,049pages on
this wiki
Nurse Mary Gollum, originally referred to as Nurse McSchwartz, was the school nurse at South Park Elementary, notable for the dead fetus attached to her head, which the students found terrifying.
Background
In her first appearance, "Conjoined Fetus Lady", she is revealed to suffer from the (fictional) condition "conjoined twin myslexia". Principal Victoria asked her if it could be surgically removed, and she said that this could be done, but at the risk of her dying. The boys are very frightened of her, leading the parents to create "Conjoined Twin Myslexia Awareness Week" which Gollum found embarrassing. The adults think she's an "ungrateful bitch" while the kids believe the fetus makes her smarter.
She also reappeared in "Roger Ebert Should Lay Off the Fatty Foods" where she examined Van Gelder's behavior and in a parody of Star Trek takes the role of Nurse Chapel to Mr. Mackey's Mr. Spock. She and him together fight against Dr. Adams' plot. She is also briefly seen as a member of True Freak Union (TFU) in "Freak Strike", and then finally in the crowd in "I'm a Little Bit Country", her last noticeable appearance - though she made a very brief cameo in "Two Days Before the Day After Tomorrow".
She had a different voice when she appeared in The Unaired Pilot as Nurse McSchwartz, as well as a much more baneful personality, annoyed the kids seemed to be faking sick again, before sending them off once Cartman released his flaming gas. She also abuses Pip Pirrup, telling him to shut up, pushing him off the table, and poorly treating his injury.
In the Season Three episode, "Mr. Hankey's Christmas Classics", one month after Mary Kay Bergman's suicide, Nurse Gollum was one of several characters who appeared in tribute to her during the line "Faithful friends who are dear to us - Gather near to us once more."
Appearance
She wears a white nurse suit and cap with pink hair. She has a gold colored name tag on her coat on the left side. She also has a still-born fetus attached to her head from birth.
Prominence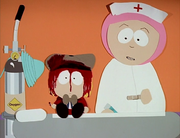 Trivia

References