This page contains trivia for "
Merry Christmas Charlie Manson!
". Remember, trivia must be factual, provable, and it is always best to cite your source for not-so-obvious trivia. If you would like to dispute a trivia point, please discuss it in the article comments.
Trivia
The only members of the Cartman family not overweight are Liane Cartman and Cartman's cousin, Alexandra.
All the Cartmans talk the way Eric Cartman does (e.g. "authoritah", "myah" instead of "here") implying he inherited it from his family. Elvin Cartman sounds nearly exactly like Eric, only his voice is higher pitched and childish. Only the men in the family seem to have this vocal inflection.
The Cartman family appears one more time in "Cartmanland" for his grandma's funeral.
Despite Mr. Hankey having a part as a monkey in a movie in "Chef's Chocolate Salty Balls", all merchandise plus events involving Mr. Hankey display him as a piece of poo.
This is the first Christmas special to not feature the real Mr. Hankey.
All of the third grade students, excluding Wendy Testaburger, are re-used and appear as kids in the Nebraska mall, waiting to see Mr. Hankey.

Craig Tucker appears multiple times throughout the episode.
A boy wearing an orange version of Craig's coat and hat can be seen during the rioting right as the Brimmy throws a lit Molotov cocktail at the Lollyland setup.
Butters Stotch, Red, Annie Knitts, Kevin Stoley, DogPoo Petuski, and Token Black are also seen in the crowd.
A color swap of Bebe Stevens with brown hair and a dark green jacket is seen as the kids are being hit by the tear gas.
There is also a blonde-haired boy, similar to Clyde Donovan, seen in the crowd.
The Boy with Blue Cap is seen several times, although sometimes he can be seen with an olive coat.
A red-haired boy, similar to Butters Stotch, and a brown-haired boy, similar to Kevin Stoley, are shown at the mall crowd scene.

There is also a boy with black hair that is shaped like Butters'.

A boy that looks like Bill Allen but with reddish-brown hair is seen being hit by tear gas.
A color swap of Stan Marsh wearing clothes similar in style to Craig's is seen.
A green-clothed version of Boy with Blue Cap is seen running towards the mall security guards.

In addition, a kid with a light blue shirt wearing a yellow-trimmed red cap similar to his is seen as the kids get hit by tear gas.

A color swap of Red with brown hair and a turqoise coat is seen in the crowd.
There is a red-haired version of Annie standing in the crowd.

This is the first episode to show Cartman without his hat, making him the first out of four of the boys to have his hair shown. Kenny is the second one as he is later seen without his parka in South Park: Bigger, Longer & Uncut and Stan and Kyle are first shown without their hats in "How to Eat with Your Butt".
When Elvin cries, we hear Baby Kate from "Arthur"'s crying sound effect rather than his normal actor.
References to Popular Culture
Charles Manson
Charles Manson is known as the leader of the Manson Family commune who instructed the serial murders by his followers in 1969.
Charles Manson really has a Swastika engraved on his forehead that was modified from an X.
Manson says "Folks need to understand that I am terror! I am fear!" This is paraphrasing his interviews on television talk and news programs. He has never referred to himself as "terror" or "fear" however.
Charles Manson has a heart-to-heart talk to Stan about family where he tells them that he had a "family" once and all they were was "a gang of people I thought were my friends. Ah after we killed a bunch of people together, I realized that my real family was who took care of me and who took the time to care about what I did". This is quite the interpretation of the events surrounding the Manson murders. Manson had a group of followers that were dubbed the "Manson Family" who he had authority over and ordered to go out and kill people.
Charles Manson uses the 1960s slang term for police and normal citizens when he says "I can't wait to get out among the pigs". This also references the word painted with blood at the crime scene.
One of the books that Charles Manson has written since his "reformation" is "Are you There God? It's Me Charlie." which is a parody of the Judy Bloom novel "Are You There God? It's Me, Margaret". The story is of a young girl coming of age.
Goofs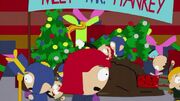 Kids from South Park Elementary appear in the mall, even though it is based all the way in Nebraska.
During dinner, when Cartman says "amen" by himself he is wearing the shirt his Grandmother got him. But in the next scene, when everyone says "amen" he is wearing his normal outfit.
When Mabel tells Howard he is looking good, Elvin's fudgesicle smear is on the TV screen even though he did not throw it.
Liane Cartman first says the drive from South Park to the Cartman's house in Nebraska is 6 hours long, however Cartman and Charles Manson say it is 9 hours.
Terrence and Phillip's legs overlap their bodies, and return to normal when they fart on the reindeer. The same goof is repeated when they are seen laughing on a couch.
When the sunscreen is advertised, it says "your gonna..." instead of the appropriate "you're gonna."
One shot shows two Craigs in the riot.
Kenny's Death
Kenny is shot to death by the police, while trying to wave a white-flag, ironically in the hopes that the police would not kill them.
Hidden Visitor(s)
Charlie Manson's tattoo turns into a visitor's head during the car chase scene.