This list is for minor characters from the seventeenth season of South Park.
Alec Baldwin
Alec Baldwin is shown in the episode, "Let Go, Let Gov", endorsing a new social media tool named "Shitter" in a mock commercial. So far, Eric Cartman is the only other supporter.
Anderson Cooper
Anderson Cooper is an American journalist and news anchor for CNN's Anderson Cooper 360°. He appeared in the episode, "Ginger Cow", where he reported on the prospects of peace in the Middle East.
Black Vampire Kid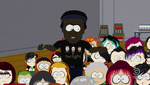 Black Vampire Kid was seen in the episode, "Goth Kids 3: Dawn of the Posers". He is actually the only adult at the Vamp's meeting. He wears a Twilight movie t-shirt and a vial of blood as an earring. The man follows the vamp and goth kids around on their journey to discover the origin of where the "emo" kids are coming from.
Cody
Cody is an IntelliLink engineer, or "smartnician", that appeared in the episode, "Taming Strange".
Pat Connors
Pat Connors is a woman who appeared in the episode, "Taming Strange". She was hired by Mr. Mackey to oversee the school's IntelliLink system. However, after barely introducing herself, she is scolded by Mr. Mackey for not taking responsibility for the system's issues, and is promptly fired before doing anything. She is based on U.S. Department of Health and Human Services Secretary Kathleen Sebelius.
Howard Flanagan
Howard Flanagan operates the Troubled Acres rehabilitation center for at risk youth in the episode, "Goth Kids 3: Dawn of the Posers". He is a gardener who tends the potted plants at the nursery, which he believes will turn everyone "emo" and take over the world. He was tricked by his wife Sarah into being an unwitting participant on the reality T.V. show Yes! I Was Scared.
Bill Gates
Bill Gates returns to fight The Sony President in a battle to the death in the Black Friday console wars.
Get Cable Employees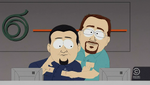 The Get Cable Employees were seen in the episode, "Informative Murder Porn". They appear to be sexually aroused by being difficult to their customers. They rub their areolae while refusing to solve the demands by the parents to unblock their cable TV.
Jehovah's Witnesses
Jehovah's Witnesses were seen in the episode, "Let Go, Let Gov". These two women try to recruit Butters into their religion with a pamphlet. Instead Butters recruits them into his DMV beliefs.
Chief Joe
Chief Joe is the head of the NSA in the episode, "Let Go, Let Gov". He gives Eric Cartman a tour of their offices and takes him out in the field to investigate a suspicious Twitter internet post.
Corey Lanskin
Corey Lanskin is a boy that teaches Minecraft to adults for a fee in the episode, "Informative Murder Porn". He uses a London cockney accent while instructing the adults and his regular, little boy voice that acts confused in order to trick people. His basement is used as a classroom with multiple computer workstations.
Old Cap
Old Cap was an old security guard for the South Park Mall who appeared in the episode, "Black Friday". He was the respected leader of the security guard force until he was killed after being stabbed by a shopper. He had a large gash over his eye, which was not a real gash, and gave it to Randy Marsh right before dying. He reappears in the episode recap and in pictures in the following episode, "A Song of Ass and Fire".
Edgar Allan Poe
Edgar Allan Poe was a 19th century author who died in 1849. His spirit was summoned in a seance during the episode, "Goth Kids 3: Dawn of the Posers", by the Goths and Vamps for advice about how to stop their followers from becoming "emo". The spirit turns out to be just as whiny as the others are, and demands to be called by his "goth" name Nightpain.
Terry's Wife
Terry's Wife is the wife of the Canadian Minister of Health who appeared in the episode, "Taming Strange". Angered by her husband's defensiveness of the the flawed healthcare system he runs, she queefs on his face and lies to him, saying that women queefing on men's faces is how babies are born.
Rick
Rick is Canadian friend of Terry in "Taming Strange". 
Therapist
Therapist is an unnamed Canadian man from "Taming Strange". 
The Sony President
The Sony President recruits Princess Kenny in the video game console wars between Sony PlayStation 4 and Microsoft XBox One. He later fights President of Microsoft Bill Gates in the Black Friday wars.
Yo Gabba Gabba
Yo Gabba Gabba is a children's educational TV show that utilizes hip-hop music and colorful monster characters. The members, Muno, Brobee, Toodee, Plex, and Foofa, were featured in the episode, "Taming Strange".
George Zimmerman
George Zimmerman is a public figure seen in the episode, "World War Zimmerman". He was contacted by the US Government to kill Token Black aka "patient zero". He accidentally shoots Eric Cartman mistaking him for the intended target.
Ad blocker interference detected!
Wikia is a free-to-use site that makes money from advertising. We have a modified experience for viewers using ad blockers

Wikia is not accessible if you've made further modifications. Remove the custom ad blocker rule(s) and the page will load as expected.