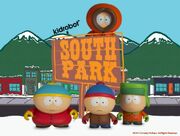 Kidrobot
is a toy company that began producing 3" South Park vinyl figures and 1" zipper-pullers in 2011 as part of Year of the Fan, succeeding Mezco. Their merchandise is released in blind boxes, meaning the figure in the box is random, although certain figures (
Towelie
and
Randy Marsh
) are rarer than others and there are two exclusive and chase figures produced in limited quantities.
All action figures have articulation at the arms and head and come with an accessory, except Satan, and the exclusive Kennys do not include accessories.
Press Release
"South Park comes to Kidrobot! Your favorite animated satirical sitcom gets stylized in vinyl for the first Kidrobot x South Park Mini Series.
4th Graders Stan Marsh, Kyle Broflovski, Eric Cartman and Kenny McCormick, along with some of the little mountain town's most infamous residents, stand 3-inches tall, feature articulating heads and arms and are paired with an appropriate, or not, accessories: rats for Kenny, Stan's flamboyant dog Sparky, Mr. Garrison's puppet, Mr. Hat, and Mr. Hanky the Christmas Poo inside a coffee cup.
An homage to their 2D stop-motion cutout creation, these mini figures, 14 styles in all, come packaged in construction paper-themed boxes. Which one will you get?"
Figures
Series 1
Exclusives
South Park: The Stick of Truth
Zipper-Pullers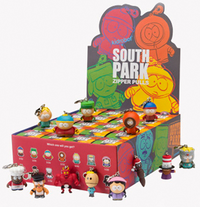 Kidrobot also released a series of 1" Zipper-Puller figures that can clip to zippers or keychains - the line-up is similar, still including Cartman, Stan, Kyle, Kenny, Butters, Professor Chaos, Mr. Slave, Chef and Satan, but
Wendy Testaburger
,
Terrance and Phillip
are added, and
Mr. Hat
and
Mr. Hankey
were released as pullers instead of accessories like with the figures. Consequently, Mr. Garrison and Mr. Mackey were not released as zipper-pullers, nor Barbrady, Randy or Towelie. There is another secret chase figure as well -
Manbearpig
.
Links
Ad blocker interference detected!
Wikia is a free-to-use site that makes money from advertising. We have a modified experience for viewers using ad blockers

Wikia is not accessible if you've made further modifications. Remove the custom ad blocker rule(s) and the page will load as expected.