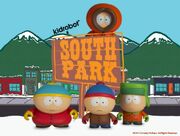 Kidrobot
is a toy company known for producing stylized 'vinyl art' action figures, often released in blind boxes, where the figures are randomly packaged in a generic box, and consumers do not know what figure they are purchasing until opening the box. They have produced lines for many series, including
The Simpsons
,
Futurama
,
Family Guy
,
Teenage Mutant Ninja Turtles
,
Rick and Morty
,
Sonic the Hedgehog
, and
SpongeBob SquarePants
.
During the Year of the Fan celebration in 2011, they produced a series of 3" South Park vinyl figures and 1" zipper-pullers, the first new South Park figures produced since Mezco Toyz ended production four years earlier. All action figures have articulation at the arms and head, and most figures came with an accessory until the most recent wave.
Each figure is listed below with its rarity where applicable.
Press Release
"South Park comes to Kidrobot! Your favorite animated satirical sitcom gets stylized in vinyl for the first Kidrobot x South Park Mini Series.
4th Graders Stan Marsh, Kyle Broflovski, Eric Cartman and Kenny McCormick, along with some of the little mountain town's most infamous residents, stand 3-inches tall, feature articulating heads and arms and are paired with an appropriate, or not, accessories: rats for Kenny, Stan's flamboyant dog Sparky, Mr. Garrison's puppet, Mr. Hat, and Mr. Hanky the Christmas Poo inside a coffee cup.
An homage to their 2D stop-motion cutout creation, these mini figures, 14 styles in all, come packaged in construction paper-themed boxes. Which one will you get?"
Figures
Series 1
These fourteen figures were released as blind boxes in the main series, with the a generally even chance of getting any of the first eight toys, with succeeding characters being roughly twice as rare as the previous. Most characters came with an accessory, and all with a sticker depicting them in Kidrobot's style.
Exclusives
Three exclusives were released, with Mysterion and the Glow-in-the-Dark Kenny limited to 1,000 pieces each. There are also ten Mysterion figures in existence that were signed by Trey Parker and Matt Stone before being boxed.
At the San Diego Comic Con 2017, a figure of Jimmy Valmer in his 'The Bard' persona was released as an exclusive.
South Park: The Stick of Truth
For the release of "South Park: The Stick of Truth", Kidrobot released five open-box versions of the main five boys in their costumes from the game, each with their main weapon. These figures are no longer in production.
The Many Faces of Cartman
After a long hiatus, Kidrobot released a new series of figures in late 2015, featuring Eric Cartman's wild array of costumes and alter-egos from throughout the show's history. There were once again fourteen styles at varying levels of rarity, featured from the first through sixteenth seasons, with most including an accessory. Pirate Cartman, AWESOM-O, and Fingerbang Cartman are the hardest to find, with Ginger Kids Cartman as the secret chase figure. This series are no longer in production.
The omission of The Coon was a hint towards his later release. (see below)
Some of the figures were re-released in 2018 in 2-packs.
South Park: The Fractured But Whole
The third blind box series was released in late 2016 to coincide with the original projected release for South Park: The Fractured But Whole, and includes twelve figures based on the kids' superhero personas featured in the game. The rarity of the figures has been decreased, with almost all of them likely to appear in a case of twenty. These figures do not come with additional accessories.
Though Mysterion and Professor Chaos figures previously existed as exclusives, these versions were made unique by giving Myserion a new 'flowing cape' while Chaos has a new facial expression.
Series 2
Kidrobot will release a fourth blind box series of South Park figures in October 2018. This series is a direct sequel to the first South Park blind box series. The lineup includes characters previously included in the two South Park Zipper-Puller figures series such as Craig Tucker, Tweek Tweak, Token Black, Bebe Stevens, Wendy Testaburger, Kyle Schwartz, Timmy Burch and PC Principal but adds Heidi Turner in her Beauty shirt, Eric Cartman in his Beast shirt, Stan Marsh puking, Gerald Broflovski, No Hat Kyle Broflovski, Ass Faced Kenny McCormick and Scott Malkinson. There are no chases or secret chases in this series.
Large Scale Figures
To coincide with the release of South Park: The Stick of Truth, a 7" version of Cartman as his Grand Wizard King persona was released in the Grand Wizard Edition of the game, kickstaring a series of larger scale 7" figures that would continue with AWESOM-O alongside the Many Faces of Cartman line, and for South Park: The Fractured But Whole, larger scale versions of Mysterion, The Coon and Professor Chaos. They have all retailed around $49.99 separately.
An exclusive glow-in-the-dark version of the Professor Chaos figure was released only in the South Park Loot Crate.
Zipper-Pullers
Kidrobot also released a series of 1" Zipper-Puller figures that can clip to zippers or keychains - the line-up is similar, still including Cartman, Stan, Kyle, Kenny, Butters, Professor Chaos, Mr. Slave, Chef and Satan, but Wendy Testaburger, Terrance and Phillip are added, and Mr. Hat and Mr. Hankey were released as pullers instead of accessories like with the figures. Consequently, Mr. Garrison and Mr. Mackey were not released as zipper-pullers, nor Barbrady, Randy or Towelie. There is another secret chase figure as well - Manbearpig.
Kidrobot released the second series of 1" Zipper-Puller figures in 2018. The lineup included characters previously included in other series such as AWESOM-O, Dead Kenny, Lemmiwinks (as an accessory) and Towelie but adds Cupid Me, Bebe Stevens, PC Principal, Tweek Tweak, Token Black, Timmy Burch, Stoned Towelie, Jimmy Valmer, Jesus, Pete Thelman and Craig Tucker. There are no secret chases in this series.
Phunny Plush
Kidrobot released a collection of South Park plush characters to their PHUNNY plush line in late 2017. The characters released for the line were Stan, Kyle, Cartman, Kenny, Dead Kenny, Butters and Mr. Hankey. Unlike the four main boys and Butters, Mr. Hankey's accessory is a cup that he can fit inside and Dead Kenny's head can be removed from his body by a strap.
Cancelled Figures
Some early art for the Many Faces of Cartman series included him in his Wellington Bear pajamas, and his innocent persona from "Obama Wins!" which he used to rig the election. At the same event, early promotional material for the South Park: The Fractured But Whole series included the silhouette of the Bard among the figures for release, but he later became an exclusive instead.
Trivia
Kidrobot is so far the only toy company to produce Randy Marsh in any form, as all other unique characters in the first series were produced by either Mezco Toyz or Mirage.
Tweek Tweak, Timmy Burch and Big Gay Al are the only characters produced by both Mirage and Mezco Toyz who are not represented in this line in any form.

Both companies also produced a normal Jimmy Valmer, while Kidrobot has only released him as the Bard as an exclusive figure.
While Mezco produced a Ming Lee version of Cartman, that particular costume is not included in any of the styles from The Many Faces of Cartman.

A second series of figures based on the main show has not been produced, although multiple series were produced for The Simpsons, so another series is possible yet.
Links