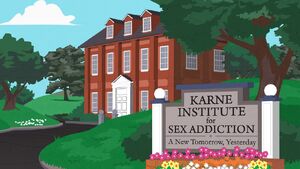 The Karne Institute for Sex Addiction is a fictional rehab clinic that appears in the episode "Sexual Healing".
History
When the men of the United States conspire to justify the behavior of sexually driven celebrities such as Tiger Woods, by claiming it's a sex addiction caused by a disease or a magic spell, this center was create to help those celebrities overcome their 'addiction'. The counselor of the institute however did not attempt to teach the men to take responsibility of their actions, but instead urged them not to get caught.
Known Members
Ad blocker interference detected!
Wikia is a free-to-use site that makes money from advertising. We have a modified experience for viewers using ad blockers

Wikia is not accessible if you've made further modifications. Remove the custom ad blocker rule(s) and the page will load as expected.