"I'm Not the Poorest Kid in School" is a song sung by Eric Cartman in Season Fifteen episode, "The Poor Kid".
Background
Upon arriving at his new elementary school in Greeley, Colorado. The song celebrates the fact that Cartman is not the poorest kid in the school, and disparages Jacob Hallery, who is.
The school principal claims that Cartman's performance of the song was twenty minutes long, included forty-seven "Yo mama's so poor" jokes directed at Jacob, and a dance number that concluded with a fireworks display.
He later sings the song again after returning to South Park Elementary, but his performance is unexpectedly interrupted by a giant reptilian bird.
Lyrics
First Version
Cause I'm not (he's not) the poor kid at school!
Greeley Colorado's the place to be!
It's a whole new beginning for you and me!
Life can only get better 'cause I know one simple rule!
I'm not (he's not) the poor kid in kid school!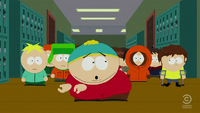 Second Version
What do we do when the tables are turned?
The day's looking brighter.
Gray skies are turning blue.
'Cause I'm not (he's not, he's not) the poor kid at school!
Kenny's back and it's such a thrill.
Now I'm rich just like Stan and Kyle!
All that matters is no one thinks I'm a tool! 'Cause I'm not, he's not, he's not
That's right, the poor kid in school!

Sing it with me, guys!

He's not the poor kid in school. He's not, I'm not- [Interrupted by the Giant Reptilian Bird that kills Kenny]
Ad blocker interference detected!
Wikia is a free-to-use site that makes money from advertising. We have a modified experience for viewers using ad blockers

Wikia is not accessible if you've made further modifications. Remove the custom ad blocker rule(s) and the page will load as expected.