Gingervitus is a made up disease discovered by Eric Cartman in the Season Nine episode, Ginger Kids. According to Cartman which is when a kid is born with very light skin, freckles, and red hair. It occurs because Gingers have no souls.
Background
Gingervitus Cartman gives a speech to the class about Ginger Kids and how they are affected by Gingervitus. It is apparently uncurable. Kyle Broflovski sees it as a hate speech and disagrees out loud to Cartman, saying that he isn't affected by Gingervitus even though he has red hair, which Cartman then explains about "Daywalkers", people with red hair but no light skin or freckles, like Kyle himself. Like most things Cartman tries to make others believe, Kyle has a somewhat more logical disagreement to his opinion. But it doesn't work, as kids like Craig and his gang show prejudice against anyone who is a Ginger.
Retaliation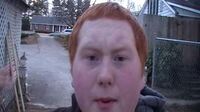 If you haven't been on the internet in this past decade, then you probably haven't seen the video uploaded by CopperCab on January 14, 2010, called GINGERS DO HAVE SOULS!! (over 4 years after the episode was made) making a reply about how South Park's view on Gingers, and how he is constantly mocked for being so.
The guys at South Park saw this and posted a parody featuring Cartman as his Ginger-looking self copying what was said by CopperCab as a promo for Season 14.
It wasn't so controversial, and the feud had ended from there.....until 200 was released.
Ad blocker interference detected!
Wikia is a free-to-use site that makes money from advertising. We have a modified experience for viewers using ad blockers

Wikia is not accessible if you've made further modifications. Remove the custom ad blocker rule(s) and the page will load as expected.