The Food Network is cable channel in the United States, which launched on November 23, 1993. The channel's programs consists of shows ranging from how-to-cook style shows to cooking contests. It was featured on the Season Fourteen episode, "Crème Fraiche".
Background
Randy Marsh becomes obsessed with the Food Network as a creative and sexual outlet, due to his lack of a stimulating family life. His devotion to cooking is an escape from his real life problems and creates tension with Sharron.
Food Network TV Personalities
Many of the chefs and hosts from the network visit South Park for a cooking contest, called "Hell's Kitchen Nightmares Iron Top Chef Cafeteria Throwdown Ultimate Cookoff Challenge", with Randy. The event is held at the South Park Elementary Cafeteria.
Chefs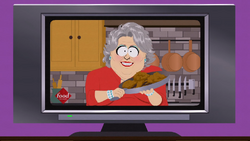 Alton Brown
Bobby Flay
Giada Pamela De Laurentiis
Guy Fieri
Jamie Oliver
Mario Batali
Masaharu Morimoto
Paula Deen
Ad blocker interference detected!
Wikia is a free-to-use site that makes money from advertising. We have a modified experience for viewers using ad blockers

Wikia is not accessible if you've made further modifications. Remove the custom ad blocker rule(s) and the page will load as expected.