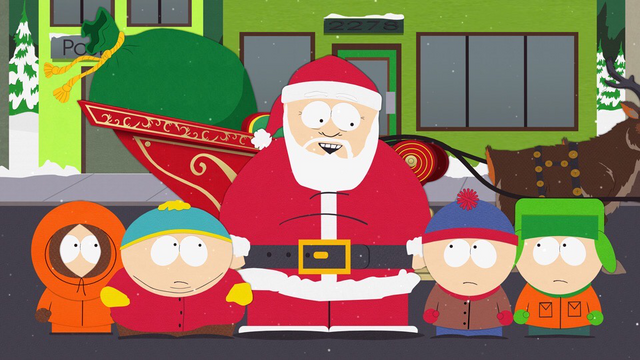 Licensing
This file is copyrighted. It will be used in a way that qualifies as fair use under US copyright law.
Appears on these pages

of
Angry/annoying smiling face shape After a strike begins over what would be the T and F were...

Hello South Park fans! We now have information about the Season 20 premiere. I will post and...

Hello South Park fans! HighJewElfKing here with details on Wednesday night's episode. As always...
File history
Click on a date/time to view the file as it appeared at that time.
(Latest |
Earliest
) View (newer 50 |
older 50
) (
20
|
50
|
100
|
250
|
500
)
Date/Time
Thumbnail
Dimensions
User
Comment
current
04:45, December 4, 2017
960 × 540

(617 KB)

HighJewElfKing (wall | contribs)
04:32, November 27, 2017
960 × 540

(470 KB)

HighJewElfKing (wall | contribs)
04:29, November 27, 2017
640 × 360

(188 KB)

HighJewElfKing (wall | contribs)
05:12, November 13, 2017
960 × 540

(678 KB)

HighJewElfKing (wall | contribs)
05:35, November 6, 2017
960 × 540

(424 KB)

HighJewElfKing (wall | contribs)
04:59, October 23, 2017
960 × 540

(547 KB)

HighJewElfKing (wall | contribs)
04:59, October 16, 2017
960 × 540

(738 KB)

HighJewElfKing (wall | contribs)
05:15, October 9, 2017
640 × 360

(181 KB)

HighJewElfKing (wall | contribs)
04:56, October 9, 2017
640 × 360

(244 KB)

HighJewElfKing (wall | contribs)
04:41, September 25, 2017
960 × 540

(592 KB)

HighJewElfKing (wall | contribs)
02:53, September 18, 2017
960 × 540

(789 KB)

HighJewElfKing (wall | contribs)
03:34, September 11, 2017
960 × 540

(444 KB)

HighJewElfKing (wall | contribs)
02:53, December 5, 2016
670 × 360

(280 KB)

Manic The Hedgehog (wall | contribs)
05:49, November 28, 2016
670 × 360

(209 KB)

Manic The Hedgehog (wall | contribs)
05:23, November 14, 2016
670 × 360

(312 KB)

Manic The Hedgehog (wall | contribs)
18:56, November 9, 2016
670 × 360

(451 KB)

Manic The Hedgehog (wall | contribs)
02:30, November 7, 2016
670 × 360

(252 KB)

Manic The Hedgehog (wall | contribs)
00:18, October 25, 2016
670 × 360

(337 KB)

Manic The Hedgehog (wall | contribs)
07:57, October 24, 2016
960 × 540

(475 KB)

HighJewElfKing (wall | contribs)
14:23, October 17, 2016
670 × 360

(311 KB)

Manic The Hedgehog (wall | contribs)
01:41, October 10, 2016
670 × 360

(360 KB)

HighJewElfKing (wall | contribs)
05:07, September 26, 2016
670 × 360

(250 KB)

Manic The Hedgehog (wall | contribs)
06:16, September 19, 2016
670 × 360

(245 KB)

Manic The Hedgehog (wall | contribs)
19:04, September 12, 2016
640 × 360

(380 KB)

Aguziel (wall | contribs)
new episode image
16:00, September 3, 2016
640 × 360

(163 KB)

Aguziel (wall | contribs)
04:30, January 6, 2016
640 × 360

(472 KB)

Aguziel (wall | contribs)
P.Chaos and minions
07:31, December 7, 2015
640 × 360

(429 KB)

Aguziel (wall | contribs)
new slider image
14:55, November 30, 2015
640 × 360

(408 KB)

Aguziel (wall | contribs)
new episode slider image
08:54, November 16, 2015
640 × 360

(406 KB)

Aguziel (wall | contribs)
new slider image
15:24, November 9, 2015
640 × 360

(427 KB)

Aguziel (wall | contribs)
new slider image
16:10, October 26, 2015
640 × 360

(420 KB)

Aguziel (wall | contribs)
better image
09:46, October 19, 2015
640 × 360

(357 KB)

Aguziel (wall | contribs)
18:38, October 12, 2015
640 × 360

(341 KB)

Aguziel (wall | contribs)
new slider image
16:33, September 28, 2015
640 × 360

(366 KB)

Aguziel (wall | contribs)
new image for slider
19:02, September 21, 2015
640 × 360

(436 KB)

Aguziel (wall | contribs)
19:23, September 14, 2015
670 × 360

(322 KB)

Aguziel (wall | contribs)
new episode image
17:21, December 8, 2014
670 × 360

(474 KB)

Nightquest (wall | contribs)
16:33, December 2, 2014
670 × 360

(316 KB)

Nightquest (wall | contribs)
17:53, November 17, 2014
670 × 360

(373 KB)

Nightquest (wall | contribs)
18:09, November 10, 2014
670 × 360

(288 KB)

Nightquest (wall | contribs)
13:26, November 3, 2014
670 × 360

(320 KB)

Nightquest (wall | contribs)
21:22, October 29, 2014
670 × 360

(261 KB)

Nightquest (wall | contribs)
14:24, October 13, 2014
670 × 360

(349 KB)

Nightquest (wall | contribs)
14:11, October 13, 2014
670 × 360

(364 KB)

Nightquest (wall | contribs)
08:04, October 6, 2014
670 × 360

(273 KB)

LectrPazillo (wall | contribs)
10:28, September 29, 2014
670 × 360

(288 KB)

LectrPazillo (wall | contribs)
21:39, September 22, 2014
670 × 360

(251 KB)

LectrPazillo (wall | contribs)
10:39, April 20, 2014
670 × 360

(310 KB)

Nightquest (wall | contribs)
Reverted to version as of 20:21, December 10, 2013
20:21, December 10, 2013
670 × 360

(310 KB)

Nightquest (wall | contribs)
22:48, December 2, 2013
670 × 360

(444 KB)

Nightquest (wall | contribs)
(Latest |
Earliest
) View (newer 50 |
older 50
) (
20
|
50
|
100
|
250
|
500
)
Metadata