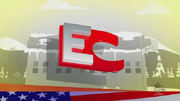 The EC Show (EC standing for Eric Cartman), was a show presented by Eric Cartman and various stuffed animals when Cartman took over the job of South Park Elementary's morning announcer. So the students could see Cartman, video monitors were installed in all the classrooms. It is most likely that the show was set up in the Audio Visual room, and broadcasting on the South Park Elementary Closed Circuit Television.
The entire show involved criticizing Wendy Testaburger while reading out the announcements, and blaming her for anything wrong with them.
The format of the show is a parody of Glenn Beck with the set and Cartman's appearance resembling that of Beck.
Ad blocker interference detected!
Wikia is a free-to-use site that makes money from advertising. We have a modified experience for viewers using ad blockers

Wikia is not accessible if you've made further modifications. Remove the custom ad blocker rule(s) and the page will load as expected.