The City Hall is a civic building in the animated TV show South Park.
Appearance
Outside
The City Hall is built of white stone and is oval shaped at the top and the bottom is square shaped with pillars on each side of the main doorway. The Mayor's Office is directly above the doorway.
The Mayor's Office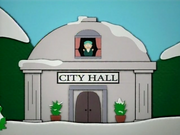 The Mayor's Office has gray walls and a brown floor with a rug in the center of the room. The Mayor, Mayor McDaniels, sits behind a wooden desk with the South Park logo on it and her two aides normally flank her on either side.
City Council
Meeting room for the city councilors. There are usually nine City Council members.
Mayor's Bedroom
The Mayor is shown to live in City Hall. Her bedroom has pink walls and a pink bed.
Meeting Room
A small meeting room with grey walls and a red carpet. Able to fit some members of the town but not for large group meetings.
Prominence