Ad blocker interference detected!
Wikia is a free-to-use site that makes money from advertising. We have a modified experience for viewers using ad blockers

Wikia is not accessible if you've made further modifications. Remove the custom ad blocker rule(s) and the page will load as expected.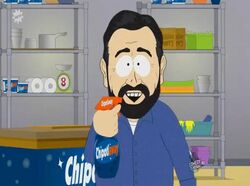 Chipoltaway is a fictional cleaning product that Billy Mays advertised and sold on TV in the Season Thirteen episode "Dead Celebrities".
According to Mays, people defecated blood after eating food from Chipotle Mexican Grill, except Stan, who is said to have a "golden butthole" according to cartman.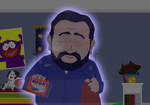 Throughout the episode Billy Mays attempts to sell his products while as a ghost haunting Ike.
Chipotlaway's main purpose is to clean blood stains out of soiled underwear.
This product also made a second appearance in the final episode of Season Fourteen called "Crème Fraiche".
Trivia
Chipotlaway is a parody of one of Billy Mays' real products, called Oxy Clean, which purpose is also gets stains out of clothing.