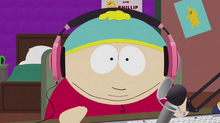 'CartmanBrah' is a channel created by Eric Cartman seen in episodes #REHASH & #HappyHolograms.
Background
Inspired by the popularity of PewDiePie, Cartman started his own YouTube channel commenting on various topics, such as his friends Kyle Broflovski and Stan Marsh.
He was offered to be a live commentator on Washington Redskins: Go Fuck Yourself Holiday Special. Because of this, CartmanBrah eventually started invading other people's homes and he spread everywhere, parodying the Johnny Depp 2014 film Transcendence, until Kyle started a new trend, #webelieveinyou, and was ultimately defeated by PewDiePie, who started playing Call of Duty: Advanced Warfare.
CartmanBrah actually has his own YouTube channel in real life, possibly created by a staff member of South Park Studios. It is located here.    
Ad blocker interference detected!
Wikia is a free-to-use site that makes money from advertising. We have a modified experience for viewers using ad blockers

Wikia is not accessible if you've made further modifications. Remove the custom ad blocker rule(s) and the page will load as expected.