This page contains trivia for "
Canada on Strike
". Remember, trivia must be factual, provable, and it is always best to cite your source for not-so-obvious trivia. If you would like to dispute a trivia point, please discuss it in the article comments.
Trivia
Butters Stotch replaces Kenny for most of this episode, as he did for several Season Six episodes when Kenny was permanently dead at the time. Kenny only appeared in one scene in this episode and he had no lines.
World Canadian Bureau, abbreviated to "WGA", is a reference to the Writers Guild of America and to the English expansion of French Canadian abbreviations.

The Canadian "WGA" Strike is a parody of the Writer's Guild of America strike of 2007 in which the Guild went on strike due to what the writers felt was greatly diminished monetary compensation, effectively making many TV shows air repeats until a resolve was found.

Until this episode, all Canadians had the first letter of their names on their shirts.
The Danish appear for the first time. Their appearance is similar to that of Canadians in that they have flappy heads, however they do not have the beady eyes characteristic of Canadians.
Before the episode aired, there was a press image released of the scene where Kyle is on the phone to the Canadians and the other three boys are behind him. In the press image, Stan, Cartman and Kenny are behind Kyle but in the actual scene, Kenny has been replaced by Butters and, as a result, only appears as a background character at the beginning. A similar thing happened in "Two Days Before the Day After Tomorrow".
Phillip is revealed to be diabetic in this episode.
References to Popular Culture
Various Internet celebrities are parodied:
Continuity
Goofs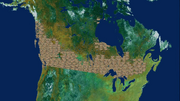 There are two Sally Turners present in the crowd at the start of the episode, two Kevin Stoleys, two Esthers, two DogPoos, and two Millies.
Near the end of the episode, the painting behind Abootman changes between shots.
Terrance and Phillip state that they only gained $3008 worth of coupons and bubble gum out of the strike. However, assuming Bennigan's coupons were distributed to everyone in Canada's 30,000,000 strong population, and each meal costs roughly 10 dollars, they actually gained $300,000,000.
When the Chocolate Rain Guy asks Butters how many views he got, he says a few hundred thousand. However, they just reported on the news it had over 10 million views.