The Bus Stop is an iconic location in South Park and has appeared as a regular meeting and hanging-out place for the main characters as well as being the place the school bus picks up the children. Since its debut, the bus stop appeared in almost every episode of early seasons and all intros, but it has made less and less appearances as time has passed. However, it is still used frequently in recent episodes, mostly at the beginning.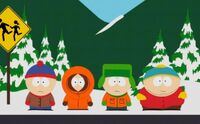 The bus stop often serves as the starting point for the episodes, setting the story in motion by alerting us to any subplots in the episodes.
Trivia
The boys usually stand to the right of the sign (meaning the sign stands on camera left), but this does vary from time to time.
The sign is of a parent and young girl running but the girl's head becomes a Visitors head for just a few seconds in the episode "Spookyfish".
In "Professor Chaos" when the boys were seeking a replacement for Kenny after his death in "Kenny Dies", they stand by the bus stop with the auditionees to see how the line-up looks, showing that they are aware of how iconic the image of the four characters standing by the sign is.
The boys most commonly stand in this order, left to right: Cartman, Kyle, Stan, then Kenny, although they may stand in this order: Kyle, Stan, Cartman and Kenny. This can vary (as seen in the picture), sometimes depending on if one of the boys arrives later than the others.
The Bus Stop has appeared on the packaging for a lot of South Park merchandise and also featured in the Simpsons parody of South Park.
The boys' iconic Bus Stop scenes are gender-swapped in "Moss Piglets" with Wendy, Isla, Theresa, and Heidi respectively.