"

The world's #1 condom
Trusted for over 50 years
Helps reduce the Risk of pregnancy and all STDs.
Caution: This Product contains Rubber Latex Which causes Allergic Reactions.

"

—Package Label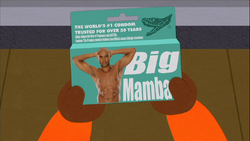 Kenny purchased a box of Big Mamba in "The Ring" for protection, when he expected Tammy Warner to give him a "B.J." at T.G.I. Fridays. In the end, he is successful in receiving a B.J. but it is assumed the condom failed as he later died from syphilis, a sexually transmitted disease.