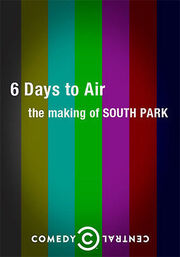 6 Days to Air: The Making of 'South Park' is a documentary by Arthur Bradford. Matt Stone and Trey Parker granted access for Bradford's camera crew to South Park Studios (to Anne Garefino's shock) to film the first 7 episodes of South Park's Fifteenth Season. The documentary mainly showed the making of "HUMANCENTiPAD".
The documentary premiered on Comedy Central at 10pm on October 9, 2011.
In the "City Sushi" segment, it shows how they made Tuong Lu Kim dance onto the stage. They did this by recording someone do that dance, and then putting Tuong Lu Kim over that man.
In the "HUMANCENTiPAD" segment, it shows the cast celebrating Easter, and a decorative "SOUTH PEEP" cake is seen, too.
The documentary is a special feature on South Park: The Complete Fifteenth Season.
Ad blocker interference detected!
Wikia is a free-to-use site that makes money from advertising. We have a modified experience for viewers using ad blockers

Wikia is not accessible if you've made further modifications. Remove the custom ad blocker rule(s) and the page will load as expected.