Ad blocker interference detected!
Wikia is a free-to-use site that makes money from advertising. We have a modified experience for viewers using ad blockers

Wikia is not accessible if you've made further modifications. Remove the custom ad blocker rule(s) and the page will load as expected.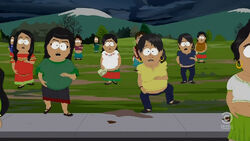 The 200 Pregnant Mexicans appear in Season Nineteen Episode "Stunning and Brave".
Background
The 200 Pregnant Mexican Women were one of the stages in Cartman's plan to get rid of the PC Principal and the PC bros fraternity. 
After Cartman's attempted blackmail of PC Principal fails, he and the some other students plan to attack the PC Delta frat house.
The plan consisted of several stages of increasingly offensive, outrageous stereotypes and behavior to create chaos and violence among the PC bros, ultimately leading to the deaths of all the PC bros.
The plan seemed to consist of using Pregnant Mexican women to eat the tacos launched by the taco launchers, then fall asleep and give birth to anchor babies. The PC bros would then be further distracted by a flood of Syrian refugee children, who would then be chased by Jared Fogle, intent on molesting them.