Welcome to South Park Archives!
Your #1 source for all things South Park that anyone can edit!
Please read the rules before you start. This wiki contains spoilers on episodes and character plots.
It also contains excessive swearing and adult content, so it's not appropriate for anyone under 16. You must be 16 years or older to edit on South Park Archives.
May's Featured Article
"Medicinal Fried Chicken" is the third episode of Season Fourteen, and the 198th overall episode of South Park. It aired on March 31, 2010
Cartman's favorite restaurant, Kentucky Fried Chicken, has been shut down and replaced by a store that sells medical marijuana to cancer patients. Cartman will do anything to get his beloved fried chicken back. Meanwhile, Randy gives himself testicular cancer so he can get a prescription card to buy pot.(
read more...
)
Adult Animated Shows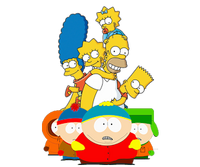 On This Day - May 27
1998: "Ike's Wee Wee" was first broadcast on this day.
Latest Wiki News
Latest Discussions
Latest South Park Tweets